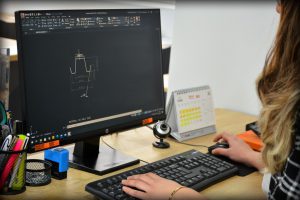 MER-AL quality department illustrates, tolerates, submits to customers approval, and records its products with CAD drawings. It offers a wide range of products to meet increasing demands.
MER-AL answers to the needs of customers with automated spot welding machines, automatic closing machines; punches and air clutch eccentric presses.
It uses robotic welding machines to produce pallets certified for the European Wheel Palett System (EWPS) following the German Automobile Association (VDA) 4503.
SOLUTIONS:
---
Fast and timely production with the automated press, closing, and welding machines
Open and immediate solutions to diversity in design and production with its tool shop
Packing after controlling each filter one by one with conveyor belt system
With the production process and final quality controls and parameter tables, it monitors the measurement and performance, realizes-corrections, improves production errors, and does not compromise on quality
ENGINEERING COMPETENCE
---
MER-AL engineering and technical support team create solutions to meet the production needs quickly and reliably. In addition, we are adopting an innovative way of thinking to follow global changes.